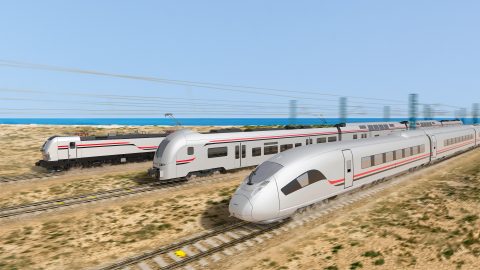 Siemens signe, en consortium, un contrat géant pour le rail en Egypte
Siemens Mobility to install a 2,000 km state-of-the-art high-speed rail network that will connect all major cities throughout the country with trains that can operate up to 230 km/h. The integrated system will create the 6th largest high-speed rail network in the world, and will provide 90% of Egyptians access to a modern, safe, and affordable transportation system. The fully electrified network will cut carbon emissions by 70% compared to current car or bus transport, further supporting Egypt's efforts in transforming its mobility to a more sustainable one. Siemens Mobility will deliver its Velaro high-speed trains, Desiro High Capacity regional train sets, and Vectron freight locomotives.
Siemens Mobility and its consortium partners Orascom Construction and The Arab Contractors have signed a contract to create the sixth largest high-speed rail network in the world.
A turnkey contract covering the design, construction, commissioning and 15 years of maintenance of the second and third lines of a 2,000 km electric rail network project has been signed by the project developer from the Ministry of Transport , the National Tunneling Authority, with a consortium made up of Siemens Mobility, Orascom Construction and The Arab Contractors.
Siemens Mobility's share of this combined contract is €8.1 billion and includes the initial €2.7 billion contract for the first line signed on September 1, 2021.
Together with civil engineering partners Orascom Construction and The Arab Contractors, Siemens Mobility will provide its full turnkey services to design, install, commission and maintain the entire system for 15 years.
Three routes
This new fully electrified network has three routes designed for speeds of up to 230 km/h, connecting 60 cities and serving 90% of the population. Future ridership is estimated at 500 million travelers per year, with a modal shift from car and bus expected to reduce carbon emissions by 70%.
The first of three routes will be the « Suez Canal on Rails », a 660 km line linking the port of Ain Sokhna on the Red Sea to Alexandria, El Alamein and Marsa Matrouh on the shores of the Mediterranean.
The second line will stretch for about 1,100 kilometers and will link Cairo with Abu Simbel near the Sudanese border, linking the megacity to booming economic centers in the south. In addition, it will allow for the development of communities upstream and downstream of the Nile, which will subsequently provide additional opportunities for small family businesses to thrive.
The third line will cover 225 kilometers and connect the archaeological sites of Luxor, a UNESCO World Heritage Site, to Hurghada, a well-known seaside destination on the Red Sea. This rail link will also have the mission of considerably improving the efficiency and sustainability of the transport of goods and materials between the port of Safaga, on the Red Sea, and the interior of the lands.
The role of Siemens
To operate the trains in this rail network, Siemens Mobility will deliver trains based on its proven product platforms. These include 41 eight-car Velaro high-speed trains, 94 four-car high-capacity Desiro regional trainsets and 41 Vectron freight locomotives.
Sur les trois lignes, Siemens Mobility installera un système de signalisation sûr et fiable basé sur la technologie ETCS (European Train Control System) niveau 2, ainsi que le système d'alimentation électrique qui fournira une énergie efficace et continue.
Siemens Mobility fournira ses derniers produits et plateformes numériques qui optimiseront les opérations sur l'ensemble du réseau pour les trains, l'infrastructure ferroviaire et les sous-systèmes. L'application numérique Railigent sera utilisée pour assurer une gestion complète des actifs et de la maintenance afin de garantir une disponibilité maximale.
Booster l'économie
Pour soutenir l'installation du réseau ferroviaire, le consortium créera directement jusqu'à 40 000 emplois en Égypte, auxquels s'ajouteront 6.700 emplois chez les fournisseurs égyptiens et, indirectement, dans l'ensemble de l'économie égyptienne.
« Le nouveau réseau de trains électrifiés vient consolider la coopération fructueuse entre l'Égypte et l'Allemagne dans le domaine des infrastructures et représentera un ajout précieux au système de transport égyptien, marquant le début d'une nouvelle ère pour le système ferroviaire en Égypte, en Afrique et au Moyen-Orient », a déclaré le président égyptien Abdel Fattah El-Sisi.
Plus d'infos à ce sujet ? Rejoignez-nous à RailTech Europe 2022. Plus d'informations sur le programme et les ateliers proposés.
Articles similaires :